On Tour: West Long Branch, NJ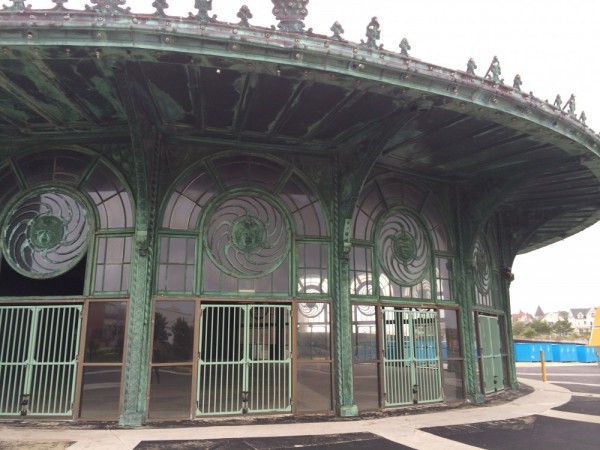 I arrived at Professor Marina Vujnovic's Intro to Journalism class a few minutes early, and a few students had already gathered. Making conversation, I asked what they've been doing in the class so far. "Writing papers about you!" replied one young woman. (Uh oh—seriously?) When Marina arrived she clarified that they have reviewed the film's press kit and have prepared press conference style questions for me. After a brief introduction in which I told the story of my "collage track" career (an undergrad music major and grad school in ethnomusicology, followed by a transfer to the cultural anthropology PhD, and falling in love with documentary at the Culture and Media program at NYU), we watched the New York Times Op-Doc adapted from the film.
The piece was a good jumping off place for questions, and a discussion of the relationship between opinion and fact in journalism. Marina explained that there has been a shift in the field in recent years from a claim of "objectivity" to the value of "transparency". I related this to the experience we had making the film, a common one in research, of finding that there are often multiple explanations of the same events or issues, and sometimes it is impossible to determine precisely which one (if any) is true. But I don't believe that means we have to give equal space to all versions of a story—I think our job as researchers and storytellers is to weigh conflicting accounts, and represent the deeper truths that we find with integrity. As the conversation progressed, we spoke about movies that inspire filmmaking (Grizzly Man and 12 Years a Slave come to mind), the challenges and rewards of freelance work and documentary funding, discrimination against immigrant workers (one student has observed it at the moving company where he works), and the need for rich countries to acknowledge the ways that their policies often help create the conditions that lead to migration, such as poverty and war or social strife.
After the class, Marina and I headed to lunch and then to take a look at the new media project she recently completed with Mike Richison and Ed Johnston, Augmented Asbury Park. The project allows users to point their cellphones around the historic boardwalk area of the town and see historical buildings and monuments that are no longer there. For example, you can see the boardwalk carousel inside the now empty carousel house (a spectacular circular building built for this purpose, with many decorative details), the indoor natatorium that used to bring in saltwater from the Atlantic and heat it for year-round swimming, and the burning wreck of the Morro Castle, a 1930s oceanliner that traveled between New York and Havana, Cuba, until it sank under suspicious circumstances off the coast of Asbury Park.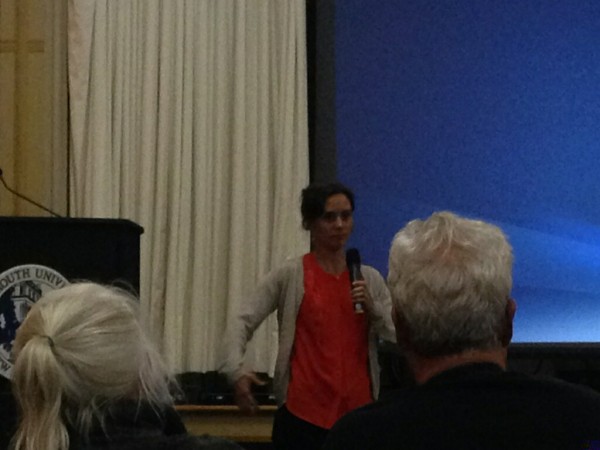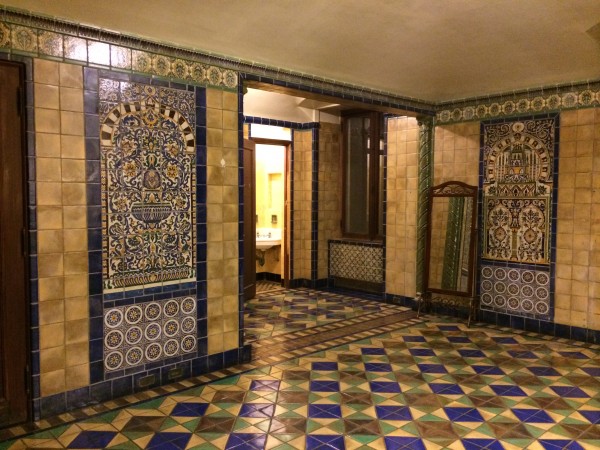 The screening took place in another stunning historic building, Wilson Hall, an enormous mansion built just before the crash in 1929. (Even the basement bathrooms were excessively ornate—kinda makes you think about inequality…) The audience response to the film was energetic and very positive, among students, professors, and older community members. I hope that this story brought Monmouth and Long Branch an opportunity to reflect on the hidden indignities of low wage work, and a chance to feel the dedication, perseverance and courage that are necessary to build a more just economy.